Working with universities and colleges across North America, CRM Consulting Corp. delivers the power of Salesforce's Educational Cloud platform to institutions in need of scalable strategies for recruitment and learning services. We respond to the evolving needs of the campus community by integrating students, educators and administrators through the latest Salesforce technology.
Recruitment and admissions experiences
Higher education marketing
Advanced alumni and engagement
Educational data architecture
MAC is a one-stop shop for customer relationship management (CRM) needs, offering SalesForce Cloud support, training, and strategic support. We provide expert, certified CRM services, both executional and architectural design, starting at only $170/hr.

Flexible Billing
Choose between set scope, by-the-hour, or longer-term monthly retainer contracts—whichever suits you best!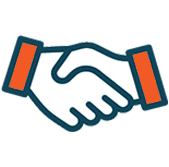 Collaborative Approach
We're here to support you in your goals, whatever they may be. From strategy to execution, we fit seamlessly into your flow.

No Middleman
Work directly with a dedicated team of certified experts. After all, your team knows you best.

End-To-End Support
Collaborate with our design team, web development team, or CRM team. We have you covered, whatever your needs are.

Deep Industry Expertise
Established in 2008, we have deep industry knowledge with clients across all verticals, from start-ups to enterprises, local and global.